18th Birthday Bouncy Castles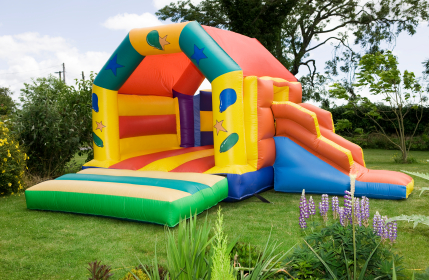 Just because you're turning eighteen, it doesn't mean you have to stop having fun. 18th birthdays are, without doubt, a huge deal, and should be a day of enjoyment and silliness, at least, that's our opinion! When you're planning the entertainment for your party, one way to ensure that your 18th is a fun filled success is to hire a bouncy castle because, come on, who doesn't love a bouncy castle?
Adult grade bouncy castles are specially designed and tested to be strong enough and safe enough to take the battering they get from larger sized people, and guarantee everyone at the party will have a great time. Bouncy castles come in a variety of shapes and sizes, and are usually suitable for indoor and outdoor use, with some available with rain covers to provide shelter. And they're not just castle shaped either, bouncy castles with slides or bungee runs are also available, to provide a slight twist to the classic look, all offering a fun filled time for all.
Due to the size, adult bouncy castles will need to be set up in an area that has direct access, so if you're planning your party in the back garden, make sure there's a way for the hire company to deliver your castle directly to the back yard as it's unlikely to fit through the house. Once it's up and running, it's time to get the party started! Bouncy castles only get more fun as the evening progresses, and there's plenty of amusement to be had at watching your friends and family try their hands at amateur acrobatics while under the influence.
Adult bouncy castles aren't the only inflatable fun to be had, so if you're looking for something a little bit different, why not try out sumo wrestling for that added adrenaline rush. Sumo suits are great fun, and are padded to help protect you and your opponent from the knocks and bruises you'd receive without them. Sumo wrestle in safety, with easy to follow rules and bundles of laughs to be had. Just, please note, size restrictions may apply for shorter adults as the suit hangs from the shoulders, so if in doubt always check with your provider first. These are a great alternative to traditional eighteenth birthday parties, and offer plenty of entertainment for your guests and opportunities for silliness. Celebrate your eighteenth birthday in inflatable style.
---